Social Entreprenur
At Opportunity Construction, LLC, our business model is like that of every other, in the sense that generating a profit by providing the best services in our industry is what we always strive for. However, our definition of profit is what sets us apart. We do not simply judge profit in terms of just monetary value. Our main definition of profit is a byproduct of first helping people. Started by a passionate social entrepreneur, Opportunity Construction, LLC is built upon the idea that giving people who may have made wrong, costly choices in their lives or perhaps were never allowed any opportunity because of racial makeup or disability a chance at a promising future through hard work. Learn more below!
---
Background
Opportunity Construction is a highway construction company that offers traditionally underserved communities, especially previously incarcerated people, the opportunity to improve their lives and the opportunity to succeed in those lives through gainful employment, training, credentialing, mentorship, case management and connection to wraparound services as needed. A part of this mission includes providing On the Job Training (OJT) programming to help people enter the highway construction industry. Opportunity Construction's Carl Phinney connected with Ecotone after meeting Emily Hunt Turner of
All Square
, a previous Ecotone client. The two met as Fellows during the
2020 REDF Accelerator
. The REDF Accelerator fosters a community of social enterprise leaders who support work and employment opportunities that empower people overcoming barriers to work. Ecotone was brought in to do an impact analysis and determine a projected Social Return on Investment (SROI) on the OJT program for Opportunity Construction. This analysis was guided by the research question "What is the estimated Social Return on Investment in Opportunity Construction's OJT program and to whom do the benefits accrue?"
Ecotone's Work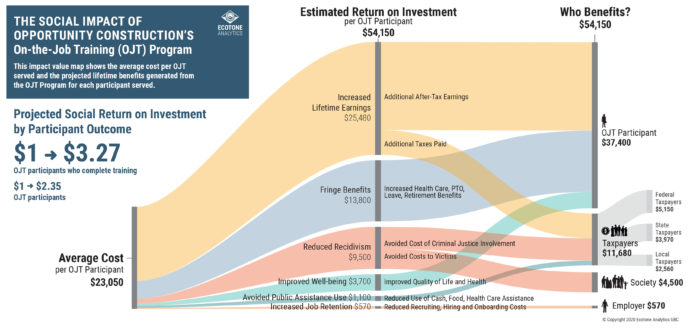 Using its research and methodologies, Ecotone estimated a projected
SROI of $3.27 for OJT participants who complete training and $2.35 for other OJT participants.
Who actually benefits from that return? In the value map below, it shows the benefactors to be the OJT Participant, taxpayers, society in general and employers Below you can also see the
Impact Management Project (IMP) Five Dimensions of Impact
for Opportunity Construction's OJT program. This includes what, who, how much, contribution and impact risk mitigation. Also included in the Impact Overview and analysis is the
logic model and theory of change
(shown below) which determines the inputs, outputs, and outcomes (including short, intermediate and long term outcomes) as well as the identified impacts.
Also shown are the Sustainable Development Goal (SDG) classifications. These are the goals that align with the OJT program.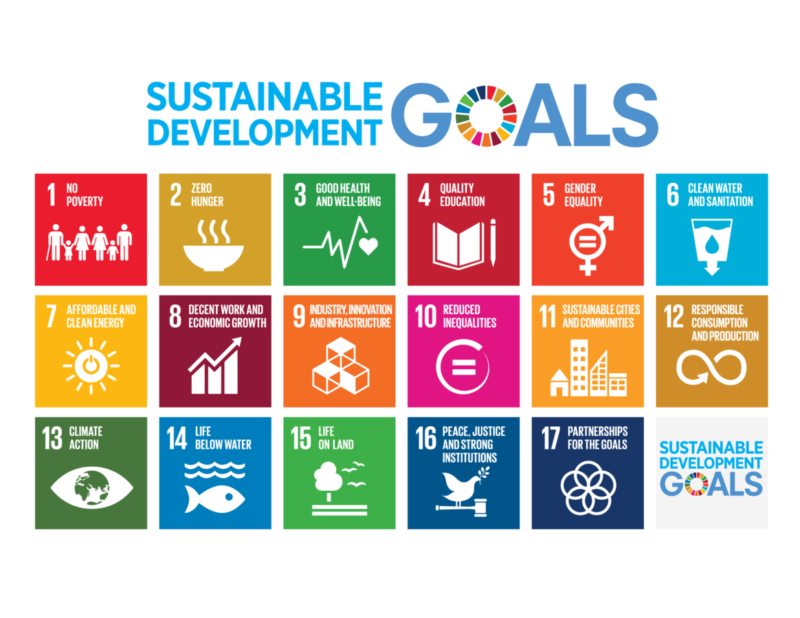 Outcomes
The evidence-based quantification of outcomes in this project will help Opportunity Construction better communicate the impact of its OJT program, using the tools created, such as the Impact Overview diagram. Ecotone also identified Key Performance Indicators which can be used by Opportunity Construction to manage impact and strategic opportunities as well as identify what future research should be done to better track impact. One identified area of future research that would better help value the social return is research about the children of OC's participants and how the benefits of the program transfer to participants' children. Another area that would benefit from more research is how lengthening the program could create additional benefits or increase current ones. In addition to the identified Key Performance Indicators, Ecotone also created a data plan for Opportunity Construction which outlines what metrics to track in order to continuously review and improve its impact. Measurement is essential for continuous improvement because it informs what programmatic changes might be necessary or what additional supports can help participants and other stakeholders achieve positive outcomes.
---
Video Testimonials
---
Written Testimonials
In the 2014 construction season I worked with Opportunity Construction LLC on SR 1023-09M and SR 35-027 in Snyder County. I was very impressed with the level of commitment they showed to these projects. They are a new company so the owner, Carl Phinney was on site every day to make sure all of his employees had everything they needed and were performing their jobs correctly. Opportunity's employees were very conscientious and performed their work in a professional manner. Compliments were given on the competence and friendliness of all of the flagging staff provided by Opportunity Construction from my superiors and the general public. I would recommend Opportunity Construction LLC for future projects and I look forward to working with them again. Mindy B. Foresman Transportation Construction Inspection Supervisor Opportunity Construction performs "protection and maintenance of traffic" that meets and exceeds Kinsley expectations. They are extremely responsive to all our needs. Scott Prowell Project Manager Kinsley Construction Inc We at H&K Group, Inc. would like to thank you and your entire staff for the professional way that your company handles the projects we work on together. We always appreciate your personal involvement, availability and the accountability that your field personnel dedicate to the projects we do together. We look forward to many more successful projects in the future! Josh Morton Project Estimator/Manager